Joint ICAW and EEMGS meeting 2022, Maastricht, the Netherlands
We would like to invite you to participate in the 14th International Comet Assay Workshop (ICAW) & 50th Environmental Mutagenesis and Genomics Society (EEMGS) meeting that will take place in Maastricht, the Netherlands on May 23rd – 26th, 2022 as an in-person meeting.
The ICAWs are a series of scientific conferences dealing with practical and theoretical aspects of the comet assay, aimed at both experienced and new users of this popular technique. In 2022, the 14th ICAW meeting will also include the EEMGS meeting.
All information about the joint ICAW and EEMGS meeting can be found at https://www.icaw.net/.
Please register at the following link, https://www.icaw.net/registration/ before April 30th for regular price. We are also looking forward to meet early career scientists, so please check out conditions for bursary applications https://www.icaw.net/bursaries-and-grants/ and apply before February 28th.
Hope to see you in Maastricht in 2022!
NOTES:
As the ICEM has been postponed till 2022, EEMGS will not organize a full meeting that year in order to better support this excellent 4-yearly conference, to be held in Ottawa, Canada;  August 27- September 1, 2022 (https://www.emgs-us.org/p/cm/ld/fid=269).  As before, the EEMGS will seek to help scientists attend this meeting via bursaries, further details will be announced shortly.
EEMGS does not traditionally run a conference during an ICEM year, and due to the high level of EEMGS participation at ICEM Ottawa 2022 we will Instead hold the annual general assembly and EEMGS award presentations during the International Comet Assay Workshop (ICAW).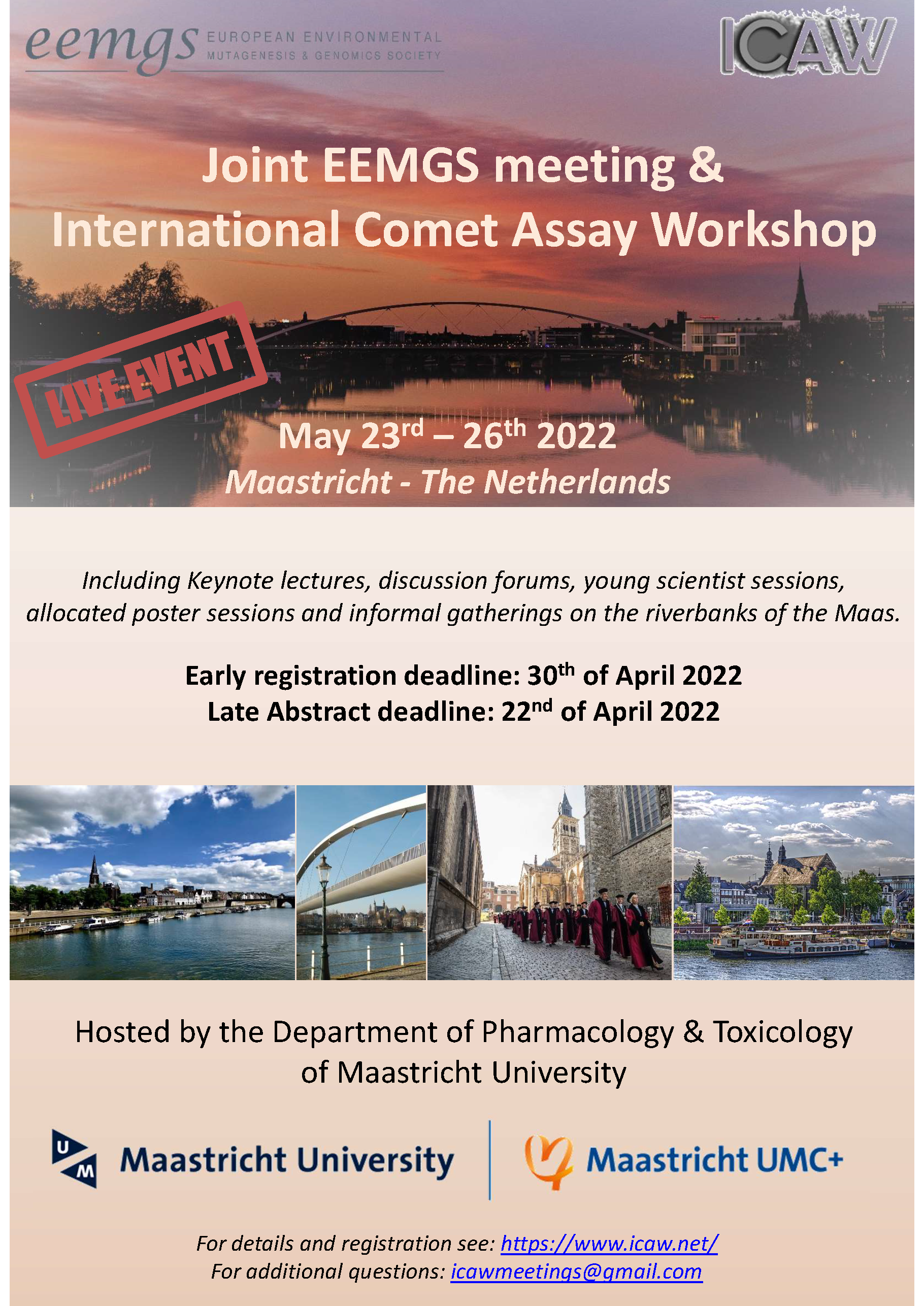 ICEM 2022, Ottawa, Canada
The International Association of Environmental Mutagenesis and Genomics Societies (IAEMGS) is a global organization composed of 13 international Environmental Mutagenesis and Genomics Societies. While these societies meet individually on an annual basis, every four years the IAEMGS convenes a gathering of all EMGS known as the International Conference on Environmental Mutagens (ICEM). The vision of the EMGS is to promote critical scientific knowledge and research into the causes and consequences of damage to the genome and epigenome in order to inform and support national and international efforts to ensure a healthy, sustainable environment for future generations.  
The EMGS mission is (1) to foster scientific research and education on the causes and mechanistic bases of DNA damage and repair, mutagenesis, heritable effects, epigenetic alterations in genome function, and their relevance to disease, and (2) to promote the application and communication of this knowledge to genetic toxicology testing, risk assessment, and regulatory policy-making to protect human health and the environment. In addition, international EMGS work through the IAEMGS to promote, support and foster training and research in genetic toxicology and environmental mutagenesis. 
The IAEMGS awarded the U.S. EMGS the honor of hosting the 13th ICEM in Ottawa, the capital city of Canada. Local scientists, Dr.'s Carole Yauk, Francesco Marchetti and Paul White from Health Canada and the University of Ottawa are serving as the co-chairs for this important meeting. 
The ICEM will be held at the Westin Hotel and Conference Centre in Ottawa, August 27-September 1, 2022. Approximately 800 research scientists and regulators from around the world are anticipated to participate. 
The theme of the conference is "Maintaining Genomic Health in a Changing World," encompassing both our changing exposures and ground-breaking tools available to assess adverse genomic effects. Our changing environment includes global warming and the resulting water and air pollution that threaten the survival of our species, the realization of space tourism and colonizing other planets, and technological advancements that allow us to modify the genomes of species at will. Our changing technologies include increasingly data-rich and quantitative sources of mechanistic information, innovative in vitro models and tools, artificial intelligence and novel bioinformatics platforms, and in the clinic, opportunities to tailor disease treatments and custom-design drugs. Today, more than ever, understanding how our environment shapes our genomes and the resulting health effects requires global effort.